Well the garden keeps on producing even though we've had a few nights in the mid-twenties. Everything I've read on Kale states that the flavor improves after  a hard freeze, and I can verify that.
The Kale I picked for Thanksgiving was from the bunch I planted at the end of July, which has smaller and much more curly leaves than the spring crop which, I might add is still doing well. The leaves on that Kale are almost as large as the Swiss Chard.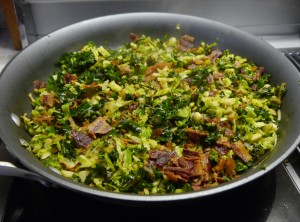 I picked about a pound of it and removed the stalks and chopped it. I also chopped a pound of brussels sprouts and an onion. I sauteed them all in olive oil for about 10 minutes and seasoned with salt and pepper and finished it with 2 Tbsp. of Champagne Vinegar with Herbs of Provence, and topped the mixture with some crumbled bacon. A great addition to the Thanksgiving dinner!
I've also been using the Kale in soups and salads. I'm still picking Parsley, Sage, and Rosemary. The Thyme and Oregano are still good, too. Hmmm, Parsley, Sage, Rosemary and Thyme — sounds like a folk song. Looks like all of these will last until December, since that's only a day away and temperatures in the low 60's are predicted for the weekend. Hopefully, I can finish the yard work.
Note to self. I need to go into the barn and see if there are seed packets left from the Kale so I can note the varieties.