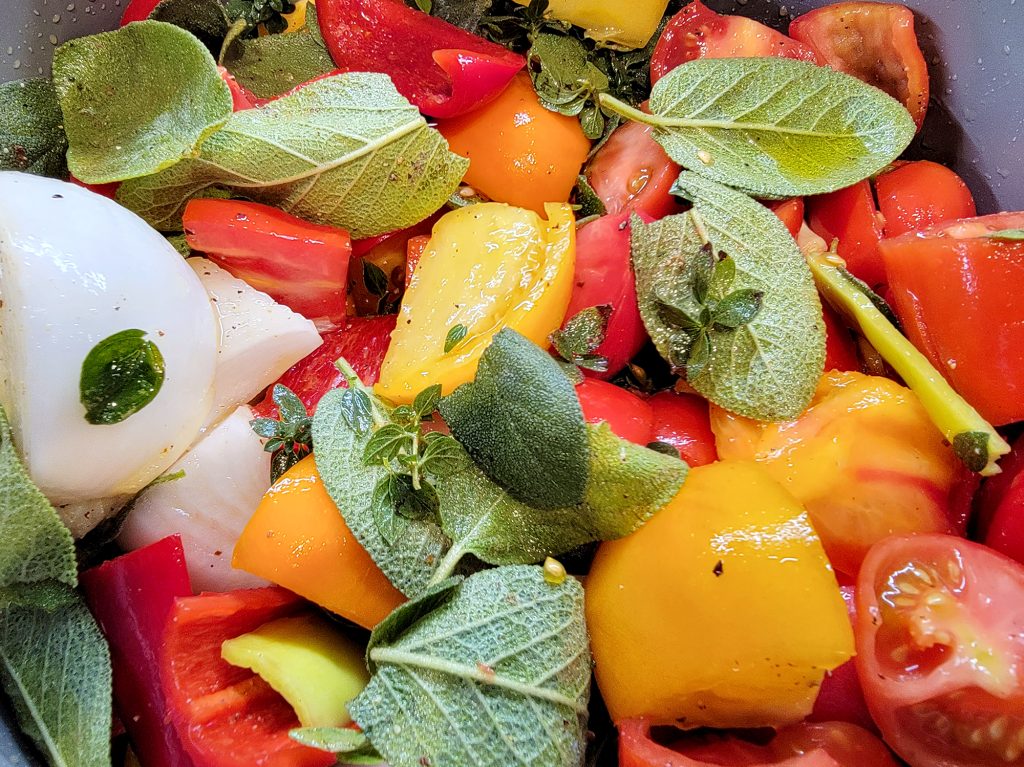 The garden is starting to wind down. I've been giving away the more perfect tomatoes and had a bunch that was bruised, cracked, or had other bad spots, so it was soup time. This is the second batch this season. My friend Danielle had this recipe on her blog and it is simplicity itself. This is my slightly modified version of the recipe.
8-10 medium sized tomatoes quartered
1 onion quartered
5 whole cloves of garlic skins removed
1 large roughly chopped sweet red pepper
1 roughly chopped hot pepper (if desired)
A bunch of fresh sage leaves (about 20 leaves)
Fresh or dried thyme and/or oregano to taste
Salt and pepper to taste
3 tablespoons olive oil
Put them all in an oven-safe pan and rub with the olive oil until coated. Then roast them at 425°F for 25 or 30 minutes until the tomatoes start giving up their juice and the onions start browning.
While the vegetables are roasting, cook some pasta. The original recipe called for tortellini, but I used 8 oz. (dry) of whole wheat macaroni.
When the vegetables have been roasted, add a cup of milk and a cup or more of grated sharp cheddar cheese and puree with an immersion blender. Adjust the seasoning to your taste and add the cooked pasta. Serve with chopped basil on top.