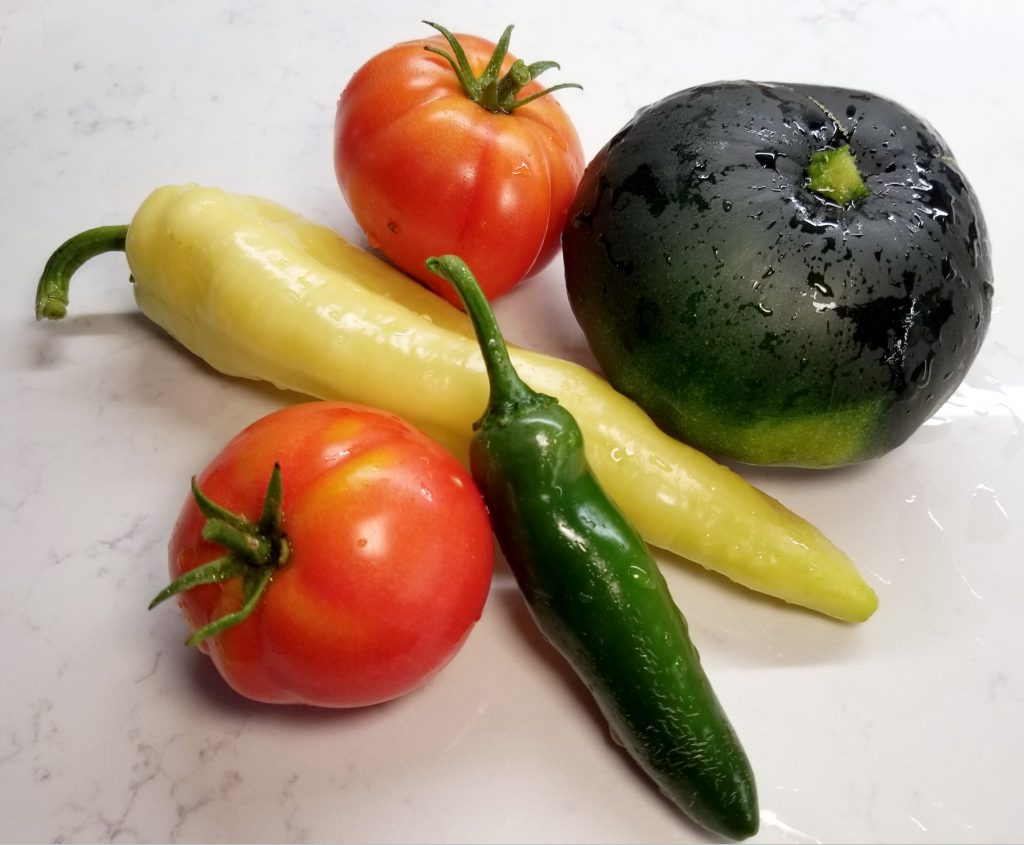 We are well into July and time for an updated status report on this year's garden.
In this weird "Year of the coronavirus pandemic," one of my main goals was to extend the growing season, especially on the front end. The container garden did not disappoint. We have had a small but continuous supply of tomatoes from the two large plants that I bought. I am picking one at least every other day, usually one every day. There has been an excellent supply of jalapenos from the mature nursery plant, and the bush cucumbers were our first ones. If I had gotten those cucumbers in earlier, we would have had them a lot earlier. Cherry tomatoes have been continuous, but not extremely prolific yet, but they will likely explode in the next week or so.
I picked the first two Champion tomatoes this morning, they were the first from that patch. The rest are coming along very slowly. It looks like the "Lemon Boy" will be the next one to have ripe tomatoes, but they haven't started to turn yet. With the amount of hot weather that we have had, it is surprising that we haven't had more tomatoes beginning to ripen. There are a couple of large tomatillos on those plants, but they went in very late, so I don't expect a harvest until late August. The Roma Tomatoes are doing well but are likely a few weeks away from ripening.
I picked a bunch of zucchini this past week, including one huge one. We've had zucchini for a couple of weeks, but there was nothing today. I haven't had any cocozelle zucchini yet. I picked my second pattypan squash this morning, and half of that went into our frittata. I should probably plant another hill of zucchini for fall since I have space.
The cucumbers are going crazy, and I've had enough to give away. I got my first couple of lemon cucumbers this week, and they were as delicious as usual. The plants are loaded with blossoms, and I planted a bunch, so we will be over-supplied with those. The small jalapeno plants have started to yield very well, but just tiny peppers on the hot Hungarian pepper plant.
The shishitos are bearing prolifically, and the Lady Bells exploded, and I have many large peppers on those plants. I tied up all of the peppers last weekend. I picked a large banana pepper this morning, and there are a few melrose and other peppers out there. The small sweet red peppers are about the right size but haven't started to turn red yet. The okra is bearing well, and I roasted some last weekend and had to throw a few away this week because they got too big, about 4 inches is ideal. The kale is looking very good, and the fennel is tall, but the bulbs are still small, I need to look up the culture of that. Swiss chard is growing okay, also.
I will probably pull up the fava beans. There are a couple of large pods and a few small ones, but they didn't do well. I was way too hot for them, and they did not germinate well. That will give the Chinese cabbage some more room.
I think i'll plant some green beans in the front of the cucumber patch, and save teh space in the first bed for fall greens.
The new herb garden is doing amazingly well. We've been using a lot of basil and that has kept the blooms off. I probably should throw some basil seed in. The oregano by the deck is dying, both the old and the new. Not sure why.