I have been rebuilding the planters for the herb garden around the deck, as the old planters are probably about 25 years old and sinking and falling apart, and too small. Today I got out at 6am to finish the installation and planting — I had all the boxes built already.
The crew that was going to remove the maple tree showed up about 6:30. They started the chain saws at 7, and by the time I left for work about 10 am, the tree was down and all the branches were chipped. They were working on chipping the trunk when I left. These guys are good! It will be nice to have light in the garden.
I finished the herb planting this morning. Because of the mild winter, the sage, thyme and rosemary survived along with the oregano which usually makes it through the winter. The parsley produced well this spring, but it always bolts in its second year, so I replanted.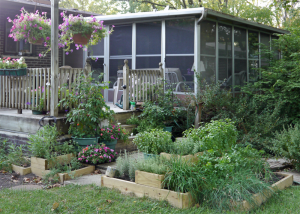 Here's what's in the herb garden:
Dill
Sage
Oregano
Mint
Thai Basil
Sweet Basil
Rosemary
2 varieties of Thyme
Parsley
Garlic Chives
Chives
(Note: The pictures of the herb garden were added in July as I didn't take any after I rebuilt it. It also looked a lot better in July.
)